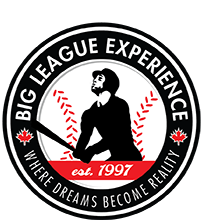 Mizuno YOUNG GUNS ELITE Camp (Born in '04 and '05) August 13th to 19th    More INFO!
The newest Big League Experience camp, the Mizuno YOUNG GUNS ELITE 12/13 runs August 13 to 19 in Oliver, B.C. and is designed for players who are advanced 1st year Peewees (heading into 2nd yr) and 2nd year Peewees (heading into Bantam) that may need more work before the transition. Players would be born in 2004 and 2005.  Campers will be starting the week on a 70 ft/48 ft diamond then progressing to the 80 ft/54 ft diamond.
Throughout the week campers will receive in-depth skill development through individual specialty stations and intrasquad games.  Team strategy and positional play will also be a big part of the daily schedule.  Individual and team awards are acknowledged on final day of camp.
Cost of the camp, including lodging, meals, camp hat/shirt/shorts, coaching and supervision will be $795 plus GST.