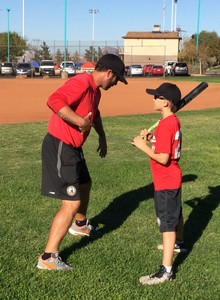 Newest addition to the BLE staff, Shea Hillenbrand played 7 years in the MLB for 6 different teams and was an All-Star in 2002 and 2005. Shea played third, first and DH at the big league level, with career highs of 20 home runs and 97 RBI in 2003 and a .310 avg in 2004. Shea traveled north for the 2005 season, hitting .291 with 18 hrs and 82 RBI for the Blue Jays.
Shea shows immense passion for the game and helping young kids develop. When he speaks, you can feel his compassion and energy to help kids succeed not just at baseball but in life as well.
The focus Shea brings to teaching is next level and BLE is very grateful to have him on our staff!