We are a peewee AAA performance baseball team.  Our baseball team seems to turn it on only when they need to.  During regular season league games we don't do a whole lot of hitting although pitching is always strong and defense is decent.  When it comes to a tournament we can't stop the players from hitting the ball hard throughout every game…
Example:  Last tourney as a team we had a team batting avg of 0.457 with 61 hits in 4 games straight.  Won all 4 games and took gold without any issue.  Prior to that our baseball team avg in league (4 games prior) was 0.289.  now after the last tourney our team avg is 0.257 again.
Baseball Team
Our baseball team seems highly motivat
ed when it comes to tournaments however in league play they don't seem to worry much about team success or even individual success (minus a few that always give 100%).  Our league is a bit different in that all teams make the provincial weekend regardless of league success so it is obvious that the boys know this.  They are also aware we keep even playing time for all players in league however in important tourney games we typically start the best 9 (at that period in time)…is there a lack of competition within the baseball team due to these 2 facts (league games don't seed us for prov's and all players play evenly in league).
What can we do as coaches so that players and the baseball team as a whole can give 100% every game regardless of it being an important game or not?  We as coaches always push intensity and encouragement for all games not just tournament games so what else should we be doing?
Should we be sitting the ones that should be turning it on but are not turning it on so as to give the others more playing time thus causing more competition in league games within the team itself?
Thanks
Kevin
Sherwood Park
PW AAA Performance – Head Coach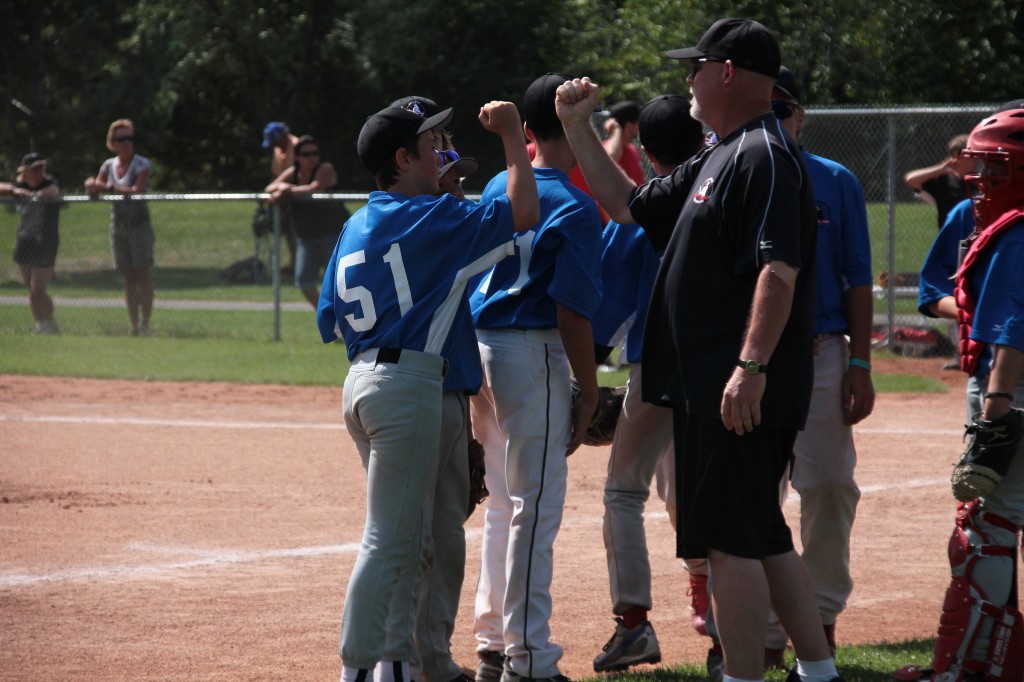 Coach Marty Lehn:
Hello Kevin;
Thank you for your question and the scenario presented. It's only human nature for those competitive individuals to turn it up a notch when the camera lights are turned on. It sounds like the guys love the challenge and competition when things are on the line and when situations/games have meaning. Unfortunately there may come a time in which they may not be as sharp and their ability to hit the on switch doesn't happen quick enough due to their lack of preparation in these "non meaning" lead up games.
Baseball has a funny way of humbling us in a hurry and when the boys move up in levels or when the competition is turned up a little bit, preparation and the ability to use these league games as preparation for the big games becomes all that more important, "Those who fail to prepare, prepare to fail". Your scenario is not all the uncommon and here is a suggestion that is used by teams and has helped them in their cause;
– Set up individual goals for each player as well as team goals. – Quality At Bats – Not just going 2 for 4, but having 4 for 4 quality at bats. Please understand that a quality at bat may not be a hit, it may just be a great at bat in which you hit a line drive right at someone, moved the runner over to 3rd with no one out, or or actually struck out, but had a great swing. Also a base hit may not be a quality at bat as Texas leaguers or miss hit balls are actually 0 for 1. This statistic can be motivating in its own right regardless of the team your playing or score of the game.
This may very well have the players initiate an internal competition amongst themselves while getting them to lock in on each trip to the plate. Keep this as an individual stat along with a team stat. All we can do as baseball players is do our best to compete and put our best foot forward and let the chips fall where they do. If we concentrate on taking care of the process and set up these internal challenges the results will take care of themselves.
Try it out and let me know how it goes.
Looking forward to seeing you and the boys back in Oliver this year again.
All the best
Coach Marty Lehn