"It was a great weekend of baseball in Kamloops as the Big League Experience hosted the "KR3 Fall Classic"  As the rest of the province was dealing with heavy winds and rain we in Kamloops were playing baseball. The baseball tournament had a total of 46 games played in 3 different divisions, Premier (Midget) division and 2 Bantam divisions ('99/'00 division and '98/'99 division).
In the Younger Bantam division, it was a solid Okotoks Dawgs team that hung on in the championship game vs. a very good Okanagan team for a 5 – 3 victory.  These two teams met the day before to battle for the number 1 seed that came with a buy to the final in which Okotoks also won by the similar score.  The other teams that participated in this division was the Calgary Babe Ruth and the BC Elite.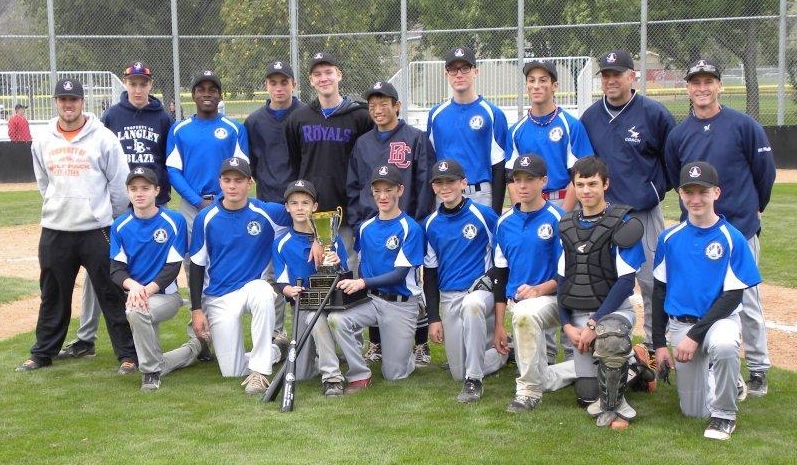 In the older Bantam division the BLE team came to play and jumped on the PBF Redbirds (Calgary) early and often to secure the Championship in the final.  It was  a solid pitching performance by Austin Rickson-Brown, Allen Hogg and Luke Petreny that set the stage for the offense to take care of business and bring home the championship.  This was a very evenly matched division that had a very good team from Saskatchewan (RBI Cobras) and the Kamloops River Dogs participating.  No team went undefeated in a Division that could have had the championship go to any of the four teams.
In the Premier division there was a lot at stake as it was a qualifier for the highly scouted "Best of the West" Showcase tournament that will be held from April 3 – 6, 2014 in Kamloops.  Only two spots were up for grabs and the NS Twins grabbed one of them as they went undefeated in round robin play and then won their Semi Final match vs. the Nanaimo Pirates.  In the other Semi Final match saw the Victoria Mariners send Canadian Jr. National Team Pitcher Colton Woods to the mound to defeat a very good North Delta Blue Jays team 4 – 2.  The Championship game in this division was not played as Teams were trying to beat a storm that was heading to the coast.
The BLE wishes to pass along a congratulations to all teams for a great weekend of ball.  Best of luck for the rest of the fall season.