Team BLE competes in Martin Luther King event
Phoenix, Arizona – January 13 – 18
Team BLE once again made their way to Mesa, Arizona for a pre tournament mini-camp prior to participating in the Martin Luther King Classic hosted by the USSSA baseball group. Two teams utilized the Red Mountain complex for their mini-camp and was able to shake off some winter rust with the help of a number of ground balls, fly balls, batting practice and intersquad games during those three days. Professional infielder Alejo Lopez of the Cincinnati Reds organization was able to come out and work with the infielders and spoke with and displayed the smoothness needed to stay in the infield at the next level (Alejo was a former infielder with the Okotoks Dawgs organization).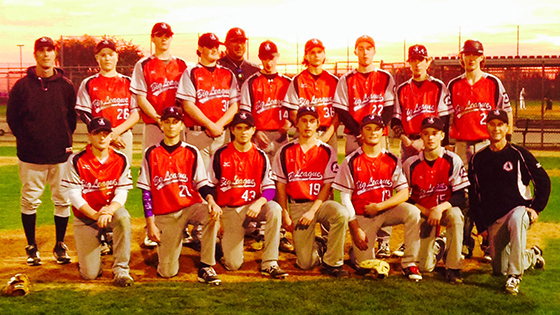 On the Friday the players and families were treated to a great visit at the Arizona State University campus that included an informative session of the University by International Admissions specialist Quynh Luu and then a tour of the campus. Following the campus tour we were gifted the bonus of visiting the Baseball complex and an exclusive tour by their team manager Alajandro. He gave us the tour of all tours that included some history of ASU baseball along with being able to observe the players working out, getting a chance to get on the field and then an opportunity to have a couple players from the team speak and answer questions about baseball and university life at a major division I baseball school. If unfamiliar with ASU baseball, it is the school that MLB great Reggie Jackson & Barry Bonds attended along with 102 other players that made it to the Major leagues. A tour like this was invaluable and I am sure something very few get to do. We saw and we heard from the players that are living their dream about the real scoop on major university athletics and witnessed it in their environment.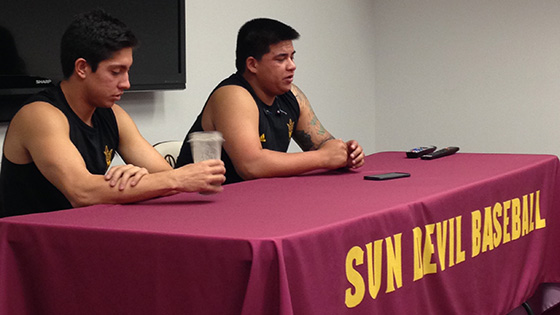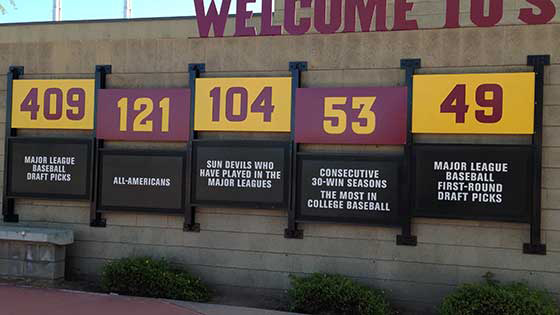 The Tournanement:
Saturday, Jan. 18 – Both teams got off to a great start on the Saturday as we came out of the gates with a 4 – 0 record. Coach Dhanani/Cox team swept their two games over teams from the state of Minnesota while Coach Blundell/Lehn's club knocked off an Arizona team and then a club from New Mexico in a well fought 8 – 7 battle. It was great to play real baseball again against outside competition as everyone was able to get into the action and contribute to a great day of baseball.
Sunday, Jan. 19 – Team Cox/Dhanani continued were they left off on the Saturday and continued their winning ways with two more victories. A couple nice victories as one was a come from behind victory that put them into the playoff round. Team Blundell/Lehn squad didn't fair as well as they matched up against a very strong team out of New Mexico who inevitably won the tournament and another strong team out of Arizona "the Edge". This left the team with a 2 -2 record in round robin play and unfortunately lost out in the tie breaking format.
Coach Cox addresses the guys with former
Okotoks Dawgs player and now Cincinnati Reds Alejo Lopez.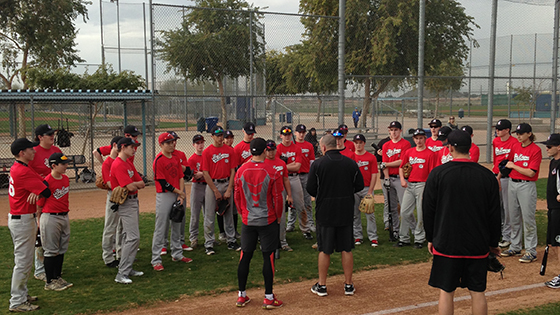 Monday, Jan. 20 – Playoff action vs. a good Minnesota Blizzard team. The guys shut them down in the 1st but eventually the bats out of Minnesota were too strong and they put up a crooked number in the 2nd and tacked on runs from then on. We did hit the ball well early, but unfortunately right at people and the break we needed never came. Sometimes you just have to give credit where credit is due and they were a nice team that played well.
In conclusion, it was a great 6 days of baseball in the valley of the sun as we had a great opportunity to get the 2016 season started with a strong mini-camp and tournament in pleasant temperatures along with a great visit to one of the most respected baseball universities in America. It was a tight net group as the off field/back at the hotel activities had competitive basketball games going on and evening golf cart tours of the Resort.
We as a staff wish for you to continue your training and take advantage of this extra time on the field to have a great start with your club teams.
The staff included Bob Didier who had a couple strong days with the catchers, Albie Lopez, Marty Lehn, Jordan Blundell, Allen Cox and Kyle Dhanani.