Entering a team into the Desert Fall Classic, BLE was excited to see our 13U players compete in an open division tournament for the first time!  The event took place in Las Vegas over the Oct. 27 – 29 weekend and the weather was an outstanding 27 – 29 degrees.  The players made it to town a few days early and were able to practice at Southern Nevada Baseball Academy's field and then play an exhibition game against the hosts.
Coming down early allowed us an opportunity to have everyone together, take batting practice, game AB's as well as have our day 1 tournament pitchers get a chance to pitch and prepare for the tournament.
Thursday, we took the team through a full day of training and an intrasquad game at the Big League Dreams Complex, taking place on the historic Crosley Field (former home of the Cincinnati Reds).  In a division that had 46 teams from throughout the country battling for playoff seedings, pre-tournament workouts were a great way to create team chemistry and prepare!
Day 1 of the tournament Team BLE split as they beat a team out of Colorado while dropping the 2nd game to the eventual tournament champions – nationally recognize DBA Baseball.  With a 1 – 1 record going into day 2, the guys won their 1st game, setting up a one game battle to get into the playoff round vs. "The AZ. Elite".  It was a tough start for the boys falling into 7 – 0 deficit. The BLE squad did not let up and brought it back to 7-5 late with runners on.
Unfortunately, BLE wouldn't get any closer and fell short. The loss took Team BLE out of the playoff round, but it did allow for another exhibition game vs. Rijo Athletics out of Seattle.  The game was back and forth and eventually Rijo edged Team BLE.
All in all a great week of baseball and outstanding way to finish off the 2017 baseball season as Team BLE ended up with 4 tournament games (2 – 2 record), two exhibition games (1 -1 record) and some great skill development with coach Didier, Lopez, Lehn and Factor, plus the great weather!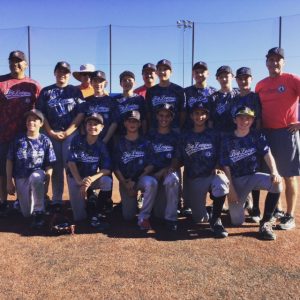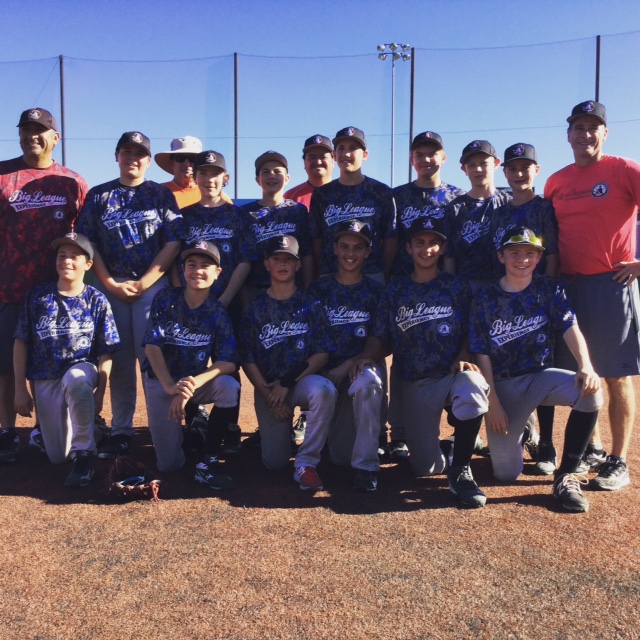 We look forward to bringing the band back together in the spring as our 13U group will be battling again at the USSSA Spring Invitational Super NIT in Arizona from March 14 – 18.
Thanks to everyone's support to making this event happen!
#VegasStrong and Go BLE!