Marty Lehn of Big League Experience hooked up with Corey Eckstein of Sandlot Baseball Academy to take two teams to Las Vegas this past weekend to participate in the Red White and Blue Baseball tournament and compete against our American counterparts over the Presidents Day long weekend.  With a couple practices under our belts on home soil prior to the trip, and one full day with a practice and inter squad game in Las Vegas it was time to see how they'd fair.  In a nut shell, this group of young Canadians faired very well with a combined win/loss record of 7 – 3 and a Division Championship for one of the teams.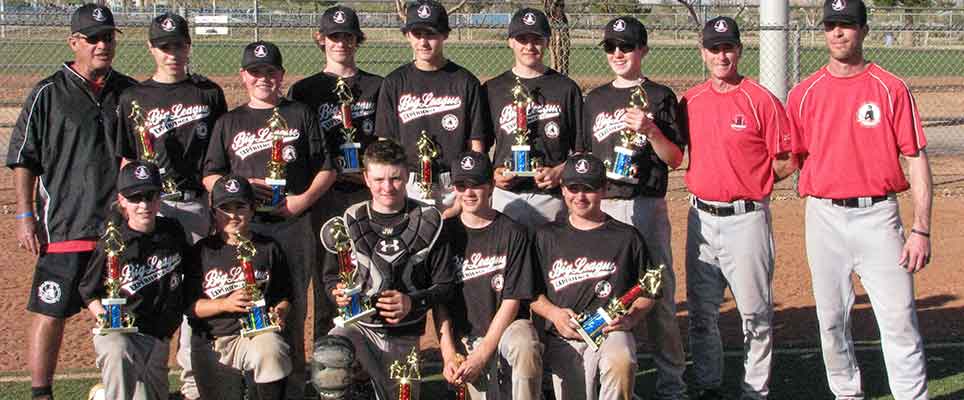 What a great experience from the get go as the weather was absolutely beautiful (25 degrees) and we received a nice treat from the tournament organizers in setting up a practice and inter squad game at a great complex prior to the tournament.  Not only to have this opportunity before the tournament but to do it at the "Big League Dreams" complex and practice at Dodger Stadium and Wrigley Field prior to the inter squad game at Wrigley.  For those who are unaware of the "Big League Dreams" complex, it's a complex that has replica fields of six major league Fields/Stadiums (Yankee Stadium, Fenway Park, Crossley field, Angels Stadium, Wrigley field and Dodger Stadium) and was definitely one of the highlights of the trip.  The inter squad game was also a great opportunity for guys to see live hitting and get rid of some of the winter rust.  Being the first opportunity to play outside and get the 2014 season under way we knew the pitchers would have to throw strikes and the offense would have to come through, and that they did.  Coach Eckstein's got started early in the inter squad game by tacking on some runs and held on to the victory over Coach Marty's club who didn't really lose the game but just ran out of time.
In the tournament that started on the Saturday, Coach Eckstein's (KC Royals scout and Sandlot Academy owner) team along with fellow coaches AJ Matthews out of Seattle and Team BC Pee Wee Coach Jimmy Vulcano came out strong going 2 – 0 with victories over the Las Vegas Commandos and the Southern California terror. Day 2 was a good day as far as competing goes but they came up a bit short with tight loses to the Nevada Road Dawgs and Meridian out of Idaho.  Their record was 2 – 2 and they ended up on the short end of the stick in a tie breaker situation with another team by ½ a run.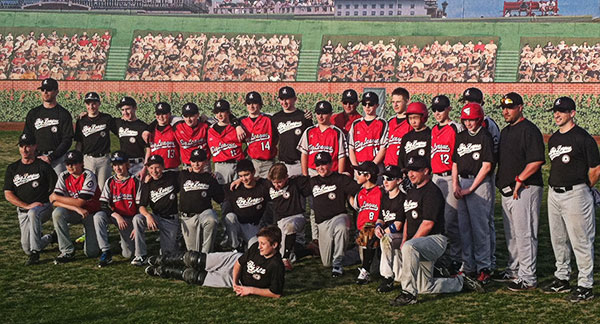 Coach Marty's team along with fellow coaches Bob Didier (5 time World Series Champion) and Jordan Blundell (Vancouver Island University Head Coach) played two Nevada clubs on day one and won their first game and then fell short in the second game.  Going into Day two with a 1 and 1 record they needed to win both games to advance to the playoff round and that they did.  Things seemed to fall into place as they won a slugfest 13-10 vs. the Tri City Venom out of Arizona in the morning game and then dominated with a strong pitching performance to win their second game of the day vs. a very good Southern Nevada team.  Day three was no different from Day 2 as the guys would not be denied as they knocked off the SoCal Sandlot 7 – 2 and then came from behind to win the Blue division Championship in a Rematch game vs. the Southern Nevada team  by a score of 13 – 9.
The Weekend will be one to be remembered as many new friends were made not only amongst the players but also with the parents who were a great support throughout the weekend.  It was ever so noticeable in the Championship game in which parents from both clubs and Coach Eckstein's players were at the game offering support.  Coach Didier commented that it got very load late in the game when Nanaimo's Aden Richardson delivered a bases clearing triple to secure the comeback and victory for the club – Seahawk loud.
All in all we as a coaching staff would like to thank the parents for giving us the opportunity to work with their ballplayers and of course thank the players for showing the passion and effort they did throughout the weekend.  Congratulations guys, you were awesome.
On behalf of the staff have a great season.