Big League Experience ~ A blast from the Past
Baseball Camp
Oliver, B.C., is a long way from either of the major-league baseball parks where this year's World Series is being played, but for more than 300 youngsters each summer, it represents a possible first step in that direction. The reason is the Okanagan Major League Baseball Camp (Now Big League Experience Baseball Camp )which since 1960 has provided youth with expert training in the fundamentals of the sport.
Among graduates of the school since its beginning in 1960 are Craig Caskey, Montreal pitcher; Bob Coluccio, Milwaukee outfielder, and David Pagan, New York Yankees pitcher. Among the familiar names in baseball who have been involved in the camp are Edo Vanni, Johnny and Eddie O'Brien, Don Lundberg, Mal Waite, Ray Washburn and Jeff Heath. About 60 per cent of the boys attending come from Washington and Oregon, the rest from British Columbia, Alberta and Saskatchewan. They range in ages from 10 to 18 and for the two weeks they are at camp they live baseball from morning wake up to evening bedtime.
There are other diversions – a daily swim, table tennis, movies, etc. " but they are there for baseball and that's what they get. But," says E. Dale Parker, director of the camp, "we try to consider the TOTAL individual, to teach him sportsmanship as well as the fundamentals of the game. At our evening bull-pen sessions the coaches and instructors give the boys inspirational talks on the philosophy of living well. "And during the baseball camp, the instructors encourage the kids to approach them at any time and ask questions." Parker has been with the camp since 1961. He is a former University of Washington and Seattle Pacific College baseball coach and for the past few years has been a counselor at Edmonds High School.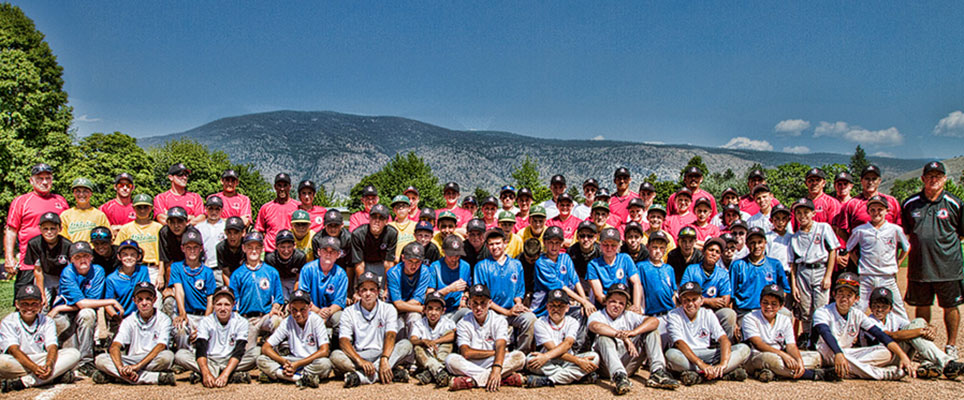 Among the instructors for one of the two-week sessions at the camp this year were the two O'Brien brothers from Seattle, both of whom played with the Pittsburgh Pirates; Mark Plunkett, formerly with the Milwaukee Brewers; Mal Walton, baseball instructor at Bellingham High School; Bill Faller, baseball coach at Yakima Community College, and Steve Mezich, assistant baseball coach at Bellingham Community college and formerly with the New York Yankees.A big question is why Oliver, B.C. was picked as the site for the school. The answer is simple. Lodged in the fruit-basket Okanagan Valley, the baseball camp has had to move inside because of rain only five times in 15 years.
Also, Don Coy, an Oliver businessman and owner of the camp, obtains use of city facilities – the ice arena where the players are housed, the community hall and the four diamonds, one fenced, that were used when semi-pro leagues and town teams flourished. This year's camp ran from July 13 through August 16.
by Herb Belanger, The Seattle Times Pictorial, Sunday, October 12, 1975