A committed group of 68 players made their way to Oliver to participate in the Big League Experiences "Futures" camp (players born from 2003 -2001).  It was a full week of baseball in the Okanagan sun as the players went through the paces to work on developing their game under the guidance of an experienced staff.  At the end of the session former Big League pitcher and BLE pitching/throwing coach Albie Lopez mentioned he liked the attention the guys gave him and the improvement he saw over the week in not only the throwing mechanics, but on how the guys played the game.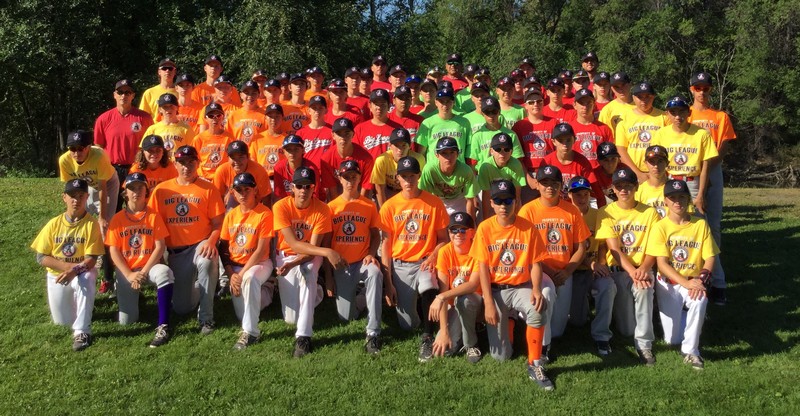 Throughout the week, players had the chance to work on their positional skills, get in the cages to work on hitting, throwing mechanics and play games. We divided the players into six teams at the start of the week and kept a scoreboard which allowed teams to score points in a number of areas from games on the field, skills competitions, the swimming pool to morning inspection.  As the week progressed we moved into tournament play in which the teams played in the "Futures" Classic tournament with Coach Frank Ingrams "Red Sux" defeating Joe Sergent's "Average Joe's" in walk off fashion as Blake Della Zanna delivers a clutch hit to score the winning run.
The instructional staff was headlined by former Big Leaguers Bob Didier and Albie Lopez along with Former Canadian Olympic team coach and MLB scout Marty Lehn, along with former professional players, college coaches/players and training staff.
Others on the staff included:
Kyle Dhanani – Milwaukee Brewers Organization player – Thompson Rivers University Assistant coach
Joe Sergent – Former Florida Marlins Pitcher and Head Coach of the Absolute Baseball Academy
Frank Ingram – Thompson Rivers coach and former Team Alberta coach
Nick Salahub – Vancouver Island University Coach
Billy Germaine – All conference corner infielder out of Southern Arkansas University
Cory Curtis – Weyburn Beavers coach and coach at Absolute Baseball Academy
Jay and Kuzuki Okuno – Trainers from Canadian Sports Business Academy, Whistler, B.C.
Kathy and Almerio Roveredo – Cooks
Award Recipients: