This year's Big League Experience "Best of the West" Tournament series saw some great pre season baseball along with some gorgeous weather. In 20 – 25 degree days and blue skys we all were treated with some very pleasant conditions to play ball in. Once again the tournament was held at the beautiful McArthur Island complex in the city of Kamloops. The town and Parks and recreation workers did a great job in having the fields in pristine shape for these early season games and great competition was prevalent throughout both divisions in both the Premier and Bantam division.

Both divisions started game action on the Thursday April 7th in which 24 teams battled in total (10 in Premier and 14 in Bantam). Along with the "Best of the West" action there was Canadian college baseball league games scheduled as Thompson Rivers University took on the Prairie Baseball Academy. A busy park with a lot of great baseball to be seen. This tournament has the better teams/players from western Canada compete and showcase their ability in front of a number of MLB scouts and college coaches. In total we had representation from 16 Major League clubs along with a number of college coaches looking for that next blue chippers. In past, a number of these players have gone on to play at the collegiate level and some notable names to the Big Leagues (Brett Lawrie, Justin Morneau, Jeff Francis, Ryan Dempster and Jason Bay).
The Premier division included 4 teams from Alberta (Vauxhall Baseball Academy, Badlands Baseball Academy, Okotoks Dawgs and Edmonton Prospects), 5 teams from the BC Premier League (Langley Blaze, North Shore Twins, White Rock Tritons, Victoria Mariners and North Delta Blue Jays), and one team made up of Thompson River recruits and invited players called the BLE/TRU Selects.
After some competitive round robin play, the semi final match ups saw the Langley Blaze take on last year's champions Vauxhall Baseball Academy and Okotoks took on the North Shore Twins. With their semi final victories it was Langley and Okotoks moving into the final and competing in an Alberta vs. BC final.
In the Championship game, it was a well pitched affair with great defense that ended in a 2 – 0 victory for the Okotoks Dawgs team over Langley.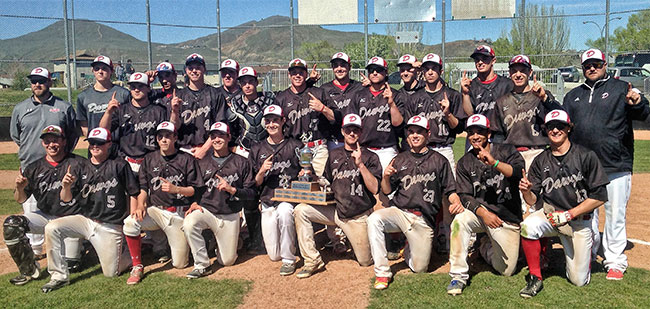 In "Bantam AAA" action that was also held the same weekend, April 7 – 10 and comprised of 14 teams from British Columbia (Okanagan A's, Richmond Chuckers, North Shore Twins prep, Abbotsford Angels, Cloverdale Spurs, North Island Royals, White Rock Tritons, Nanaimo Pirates, Kamloops River Dogs and Coquitlam Reds prep) and Alberta (Spruce Grove White Sox, SFX Baseball Academy, Okotoks Dawgs, Absolute Baseball Crimson,). It was a very good competitive tournament that had many close games that could have gone either way. The tournament had four divisions in which the winner of each pod would advance to the playoff round. Being a tough task to get into the playoff round it was win all your games or miss that chance and the four teams that did qualify all did go undefeated – Those teams were the Okotoks Dawgs, Richmond Chuckers, the Crimson from the Absolute baseball Academy and the Coquitlam Reds Prep team. With the matchups being the Okotoks Dawgs taking on Richmond Chuckers in one Semi Final game with the other match up being the Crimson from the Absolute baseball Academy taking on the Coquitlam Reds Prep.
In the Semi final action Richmond won a well pitched game 3 – 0 as LHP Justin Thorsteinson throws a no- hitter to shut down a very good hitting Okotoks team. In the other semi final, Coquitlam was able to capitalize on their opportunities to take a 7 – 3 victory over the Absolute Baseball Academy Crimson.
The Championship game, it was a tight game as Richmond took a 3-2 lead into the 6th and then was able to tack on a couple more and come out with a 7 – 3 victory. Richmond and Coquitlam are two well coached teams with some great talent, it'll be interesting to watch a few of the boys progress.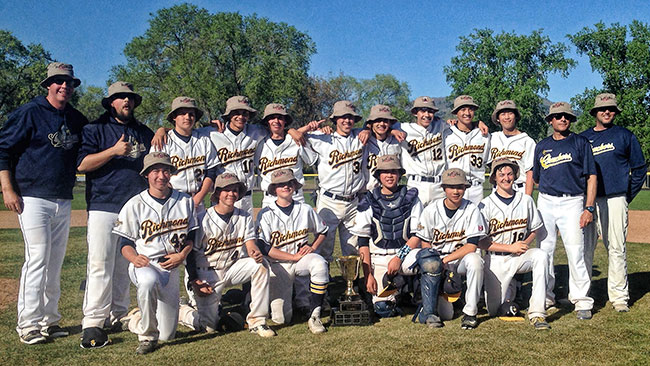 To all teams, all the best to a great season and thank you for your sportsmanship and competitive play.