Much like 2014 edition of Team BLE Travel teams, this year saw teams making their way to Las Vegas and Phoenix with the same objectives – Create a positive experience, get better at the game we love and compete well in our games.  All teams comprised of players predominately from the Summer camp and offered the opportunity for players to take advantage of the warmer climate Las Vegas and Phoenix have to offer and some great coaching.  Once again Team BLE has a coaching staff that was second to none and some guest coaches that offered some great information.  Former Big Leaguer's Bob Didier and Albie Lopez, alongside Coach Lehn, Alan Cox (Okotoks Dawgs academy) and Vancouver Island University coach Jordan Blundell handled the operation of the mini camps and then tournaments.  Each session concluded with the opportunity to participate in a USSSA invitational tournament that see's teams come from a number of different states.
Here is a list of the trips and a quick summary of each event:
In the Middle of January Team BLE's 15U group headed down to Mesa, Arizona and Utilized the Gene Autry complex prior to participating in The Martin Luther King tournament.  It was a pleasure to train for the three days prior to the event and have special guests such as Chuck Hinsley (San Francisco Giants) talk about "how doing the little things can make a huge difference" along with 16 year Detroit Tiger and Canadian Baseball Hall of Fame inductee Jim Hiller touch base on "working hard to achieve your goals".  It was a strong three days of work that complemented the lead up to the tournament that saw us win the 1st 3 games and take us to the playoff round.  In the Playoff round we ran up against one of Arizona top 15U prep pitcher that shut down a pretty good line up of Canadian hitters.  Sometimes you just have to tip your hat to a great outing.  All in all, a great trip with unbelievable weather to boot – 25 to 28 degrees Celsius for the week.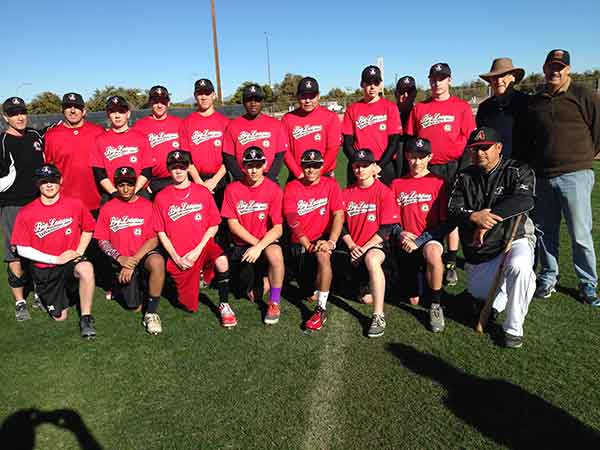 In the Middle of February it was off to Las Vegas, Nevada for a mini-camp and to participate in the Red, White and Blue Classic tournament put on by the Vegas Valley Baseball group over the Presidents Day long weekend.  A 13U and 14U team went down and once again we were treated with the opportunity to utilize the Big League Dreams fields for our training camp prior to the tournament.  Two full days of work on Wrigley field and Dodger stadium gave us the opportunity shake off some rust from our winter layoff as well as the opportunity to compete in the weekend tournament.  Included was also the opportunity to watch some Division 1 college baseball as the guys were able to watch UNLV take on the University of Nebraska.
In the tournament, both teams competed well, however fell short in advancing to the playoff round – in fact our 13U group lost out on a tiebreaker by one run.  However, all was not lost as we had a great day on the Monday to get some work in and play an inter squad game that saw Ex. Big Leaguer Albie Lopez take on ex. Professional pitcher Jordan Blundell as we divided the teams up.  Blundell prevailed for the victory, but it was Nanaimo's Jake Nikirk that was the game MVP with a big two RBI shot to the left center field gap off of Lopez.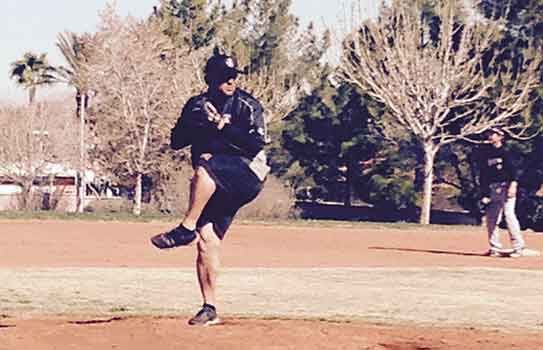 The Middle of March – "Spring Break – BLE style" – How else would you spend Spring break other than go to Arizona and play baseball.  Leading off the break was a group of 10 year olds comprised of players from Tsawwassen, White Rock, West Vancouver and Okotoks, Alberta to make up the squad.  This group soaked up every minute of the experience by getting better at the game, going to spring training games, jamming in the vans, enjoying their pool time and meeting new friends.  The games were good as much was learned as it was the first time the guys played real baseball, lead off and stealing. The team made it to the playoff round, but lost to a strong Texas Longhorn team that ended our tournament play.
Next off for Spring Break 2015 was the Midget group (18U) that comprised of a 4 day camp/tournament in Mesa, Arizona at the Gene Autry complex.  The camp comprised of 4 teams in which three were BC minor teams from the Midget AAA league (West Kelowna Diamondbacks, Kamloops River Dogs and the Ridge Meadow Royals) and Team BLE that had it's players residing from a range of Vancouver Island to Regina Saskatchewan and everywhere in between.  All Teams were able to utilize time to train as a team on the field as well as utilize specialty coaches to do individual position work.  Every night there were games in which coaches were able to move guys around and see what potentially may be their opening day starters when returning home for league play.  As much as we were keeping score, we really weren't, as the objective was to kick off the 2015 season with a great baseball experience and get ready for the upcoming season.  Pre season training, competitive games, the opportunity to see Major League spring training games as well as the opportunity to make a campus visit to a major US institution – Arizona State University made this a great trip.  We look forward to making this an annual event and the opportunity this great game brings.
The final leg in the Spring Training trip was with our 14U team that trained and participated in the Super National Invitational tournament held by USSSA baseball in – Gilbert, AZ.  The team played extremely well and ended up with a 5 – 1 record, however, unfortunately their only loss was in the Semi final game by a score of 8 – 7 vs. the California Selects which knocked them out of the Championship game.  Leading up to that Semi final game, the team had to rally from a four run deficit in their last at bats to force extra innings and eventually winning that game- pretty exciting stuff.  They weren't as lucky vs. the Selects.
In all, the trips were very positive and something we will look forward to continue to do for the future.
*If interested in these travel teams, the identification process happens at the summer camp and we look forward to getting over the hump one of these times and taking home that Ring.*