Baseball Camp Alumni
Lachlan Fontaine gets a chance to live the dream !
Way to go Lachlan.  Needless to say it didn't come without some stress along the way and of course during the draft day, but long time Big League Experience Baseball Camp attendee Lachlan Fontaine is drafted by the Seattle Mariners in the 13th round by lower mainland scout Wayne Norton.   Wayne remarked  "It was a nice pick for us as Lachlan should contribute offensively with some power and play some solid defense".  It's a plus arm that should end up in a corner position and be a solid contributor to any club.  Wayne is the same scout that drafted and signed Mariners centre fielder Michael Saunders who is from Victoria.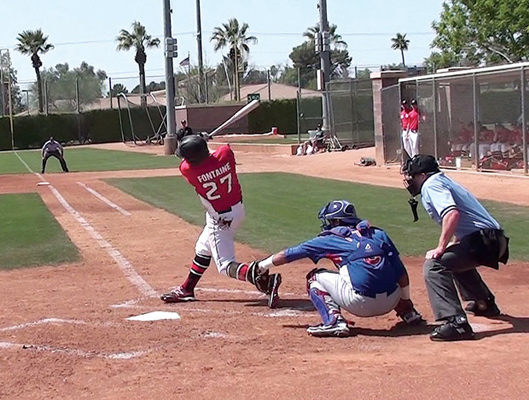 Lachlan has been a member of our BC Provincial team, The Canadian Junior National team for the past two years and also plays with the North Shore Twins of the British Columbia Premier Baseball League (BCPBL).  He did sign a letter of intent to attend Central Arizona Junior college this fall, but it's been Lachlan's long term goal to be a big leaguer and no time better than the present to get the process started.
BLE camp owner and Milwaukee Brewers scout Marty Lehn commented, "I am so happy for Lachlan and I know the M's got a quality players/person from a great family with some big upside that could very well play at the big league level. I am bummed he's not a Brewer, but all the same I am excited he's getting his chance".  Lachlan will be making his way down the coast to Peoria, Arizona (Mariners Spring training site) later this month to start his journey to the bigs.
Congratulations to Lachlan and his family (Bob, Donna and brother Elliott) and best of luck on you endeavour to becoming a big leaguer. So Coooooooool