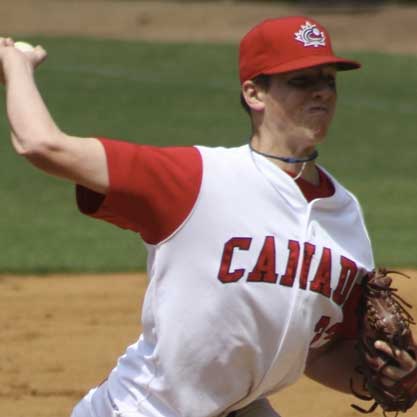 Nick Pivetta, long time Big league Experience baseball camper,and Victoria BC native has been selected by the Washington Nationals in the 2013 edition of the Major League Baseball Draft.
Nick is now getting his chance to "Live the Dream" as a Washington National and an opportunity to become a big leaguer.  This last season had Nick play for the nationally ranked New Mexico Junior College and tally a 9 – 2 record with a 3.36 ERA in 13 starts and a fastball that touched 97mph.  This power throwing right hander with smooth arm action is a former Team BC graduate that played for our Canadian Junior National team in 2009 and 2010 and was a member of the Victoria Eagles of the BC Premier Baseball League.  Nick was on the scene for the draft out of high school but had some arm issues and went on to play at New Mexico Junior College.  That has since gone to the side as he put together a great season and is rewarded with his 4th round selection.
Congratulations to Nick and family and best of luck in your next chapter in Baseball.