This past week the Big League Experience baseball camp headed down to sunny Arizona with a 15U group to train in some beautiful weather and compete in a USSSA Invitational tournament.  The team was led by a very strong staff that included two former Major Leaguers (Bob Didier, Albie Lopez) along with former Canadian Olympic team coach Marty Lehn and former University of Kentucky Wesleyan coach and now player development coordinator for the Okotoks Dawgs, Allen Cox.  Along with that st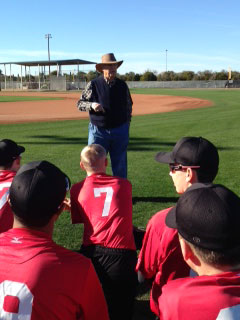 aff we were all treated to having some very special guests come by for a visit and talk to the guys about their journey to the Big league's  and what separated them from the rest to get there.
The trip was led off with a three day minicamp held at the Gene Autry complex in Mesa, AZ in which the guys were able to shake off the rust and cabin fever from their indoor training facility workouts.  Being able to get on the field and play some long toss, take some Ground balls and fly balls along with taking BP was pretty cool.  The second day of the minicamp was pretty special as two special guests came by to talk to the team with some great advice for the guys: the legendary Mel Didier spoke on respecting the game and all those involved, ending the message that "the opportunities are endless if you put your mind to it".  Mr. Didier is the father of Bob (our adopted Canadian son from another country and BLE coach) and is a senior advisor to the General Manager to the Toronto Blue Jays and was instrumental in signing a number of players who have gone on to play in the Major Leagues.
Our other guest was Chuck Hensley, former big league pitcher and now scout with the San Francisco Giants, was a player who didn't throw that hard but worked on mastering his abilities when on the mound. He spoke to the group focussing on a simple message; "Work with what you have and fine tune it, perfect it". He now has three World Championship rings to show for his approach.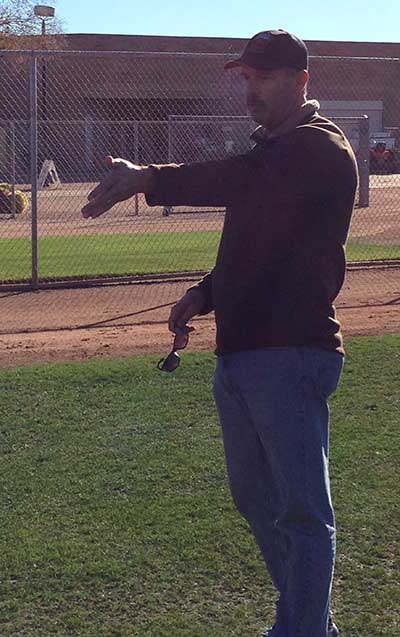 With the Minicamp over it was time for some tournament action: With three days of training under their belt and the guys chomping at the bit, it was a treat to be able to play a real game of baseball. In the first game, the guys came out swinging and handed the local team BBC Generals a 10 – 0 defeat. Their next game was against an Arizona Rage team that were caught flat footed; the guys made short work of this and came out with a 15 – 5 victory – a great start to the tournament after three days of hard work. During the first game, no one knew that Canadian Hall of Famer and former 16 year Major League Pitcher, John Hiller, was at the game watching his fellow Canadians play ball. John grew up in the Toronto area and is now retired, living in the Mesa area during the winter months. A long time friend of Coach Didier, John agreed to talk to the guys about his journey to the Big's. John was a left handed pitcher who played all his 16 years with the Detroit Tigers and appeared in one all star game and was on the staff of the 1968 world championship team. His message: "enjoy the game and take advantage of opportunities you have to get you better".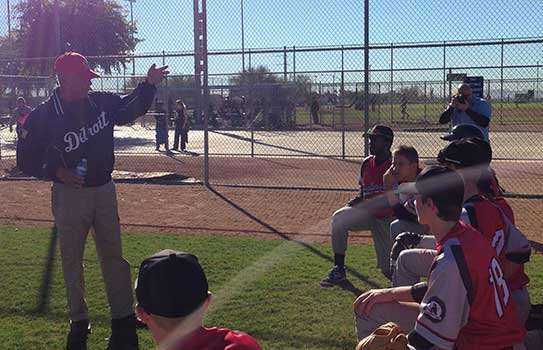 Back to the tournament, with a 2 – 0 record the team was sitting good going into Sunday and were now trying to up their position in pool play standings and get ready for the playoff round.  Unfortunately there were some missed opportunities in the Sunday morning game and we took our first loss, 9 – 8 to finish with a record of 2 -1 in round robin play.  This record gave us the #5 seed and a playoff rematch vs. the team we knocked off 10 – 0 in our first game, the BBC Generals.  This is never good, especially when your opposition saves their ace for that game.  The Generals were a totally different team with this hard throwing lefthander that held our offense down which allowed their offense to tack on the runs and eventually end our run with a tough loss.    The lefty was a pretty special pitcher and we all know the old cliché "Good Pitching beats Good Hitting any day".  On that note, the Generals did catch on fire with that victory and went on to win the tournament. Hats off to them for rebounding from their first game defeat.
All and all, what a great week of baseball with a great group of players.  As a staff we wish you all the best of luck for the season and we look forward to seeing you all soon.