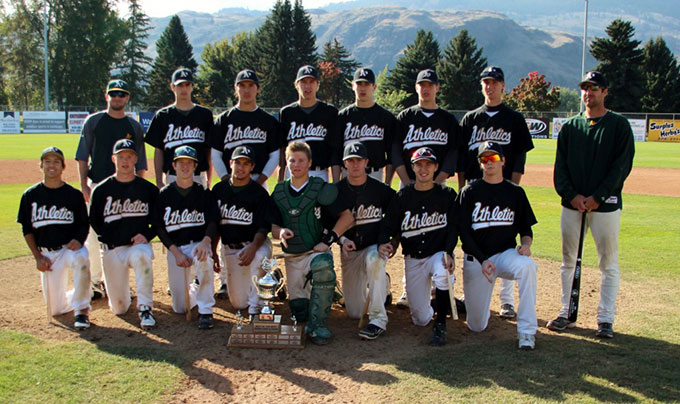 Evan Bailey and his Okanagan A's continued their strong play in 2012 to capture the KR3 BOW 18U Qualifier Tournament.  After being crowned the BCPBL champions in August,  the Okanagan A's came into Kamloops this past weekend and took it to the competition by going undefeated with a 5 – 0 record to capture another crown.  In round robin play the A's  finished as the #1 seed and took on a fiesty Okotoks Dawgs team in a Semi final games that they broke open in the late innings to earn the trip to the final.  In the other game the #2 seed PBF Redbirds fell just short against the #3 seed North Delta as the Blue Jays put together a complete game and victory to  advance to the championship game.
 In the Final the A's made  statement and let everyone know they were the best team this Thanksgiving weekend by knocking off North Delta.  With the results over this past weekend, the top 3 teams, Okanagan A's, North Delta Blue Jays and  PBF Redbirds have all qualified for the 2013 KR3 BOW Invitational 18U tournament to be held in Kamloops.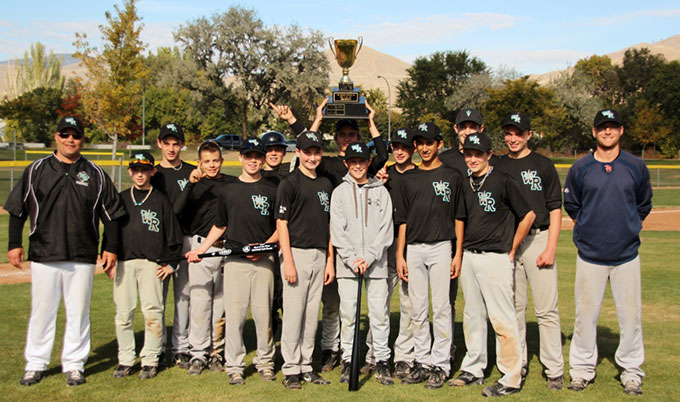 Best of the West Bantam Division   Wow – What an exciting finish to a great weekend of baseball in probably the best baseball conditions you could ask for in early October.  Throughout the weekend we were entertained with some great games, a great final and some weather that made it truely an  outstanding weekend.  In round robin play Kamloops came out as the #1  seed and knocked off the Okotoks Dawgs to advance to the final with the White Rock Tritons finishing as the #2 seed in round robin play knocking off  the PBF Redbirds behind a 16 strike out performance from White Rock's  Allan Hogg.  The final was a See Saw battle between White Rock and  Kamloops that had these young men playing some very entertaining baseball on the Thanksgiving Monday.  White Rock was able to score  two in the top of the 7th inning to take a 7 – 6 lead and Kamloops  made it exciting by having runners at 2nd and 3rd with 2 out in the  bottom half to only fall one hit short of the championship.  You  couldn't ask for a better final and congratulations to two class act teams.  In the consolation game the Okanagan A's (who lost a in the tie  breaker format from going to the playoffs) knocked off the other Okotok Dawgs team.
CONGRATULATIONS! to the 2012 KR3 Best of the West Fall Series Champions!