The Big League Experience is excited to announce its staff and guests for this year's 2015 Showcase camp being held in Oliver from August 31st to September 4th.  It'll be a great week for you as a player to get better as well as showcase yourself in front of those that can help you in playing collegiate and potentially professional baseball.  In the past we have had a number of players come to the Showcase camp and move on into the professional and collegiate ranks and this year will be no different.  Here is a list of those instructing and recruiting at this year's camp.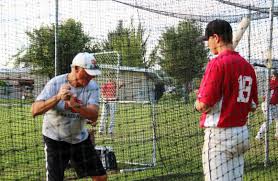 Bob Didier: Former MLB catcher and 5 time world champion.  A former catching coordinator with the Arizona D-backs as well as corresponds with Grand Canyon College (NCAA Div. 1) and Arizona Christian University (NCAA Div. 2 program).
Albie Lopez: 12 year Major League pitcher that won a championship with the D-backs in 2001.  Albie is a Mesa College (NJCAA Div. II 2014 national champions) Hall of Fame inductee and liason with that program.  Last year camp graduate Max Williams will be playing at Mesa starting this fall.
Marty Lehn:       Southeastern Louisiana University alumni liason (Southlands Conference Champions). Former Canadian Olympic team coach
Cav Whiteley:   Head Coach at Douglas College (NWAACC) and Head coach of Team BC's 2015 National Championship team.
Mike Gange: NCAA Div. I University of Washington (NCAA Div. 1 – Pac 12 conference)
Ken Wilson: Head recruiter and Assistant coach at Central Washington University.  One of Washington State's top Colligiate coaches.
Kyle Dhanani: Thompson Rivers University (CCBC) Assistant coach and former Professional player in the Milwaukee Brewers organization.
Joe Sergent: University of Calgary (CCBC) – Former professional players with the Florida Marlins.
Don Cowan:       Toronto Blue Jays Scout
Don Archer:        California Angels Scout and Oregon State University Alumni liason
Showcase Camp Info Here
**Addition to the camp will be a seminar on "The process" to college admissions and "What college recruiters and Professional Scouts are looking for".**
*A great opportunity to get better and get yourself seen*
To Register for camp please click here
Sincerely
Marty Lehn
Big League Experience baseball