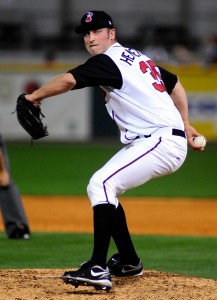 Former Big League Experience camper and Okotoks Dawgs product James Henderson was called up from his AAA assignment to report to the Majors by the Milwaukee Brewers. With a strong recommendation from Okotoks Dawgs GM John Ircandia who convinced area scout Brandon Newell of the Brewers to give Jim the chance. It was the Okotoks Academy just outside of Calgary, Alberta that played a huge role in the development that helped Jimmy as a youngster and set the foundation to be able to take the next step.
Henderson is one of many BLE alumni campers who have gone on to play either college or professional baseball. BLE owner, Marty Lehn commented, "We feel fortunate to be able to work with and have the likes of Jimmy attend camp and we'd like to take credit for his development, but for the most part we were just a piece of many in the puzzle that sets the foundation for success.  This is a great accomplishment for  Jimmy, his family, the Okotoks Dawgs organization and the BLE and a great testament to our vision and goals. Every summer the BLE puts together a great group of coaches and scouts to give players, ages 10 years old to 20, the opportunity to share their passion for the game."
The 2012 Big League Experience Camp coaching list includes 5 times World Series ring holder, Bob Didier, World Series championship member with the Boston Red Sox, Orv Franchuk, MLB scouts from Milwaukee Brewers, Boston Redsox, Toronto Blue Jays, L.A. Angels and other former professional players and coaches.
For more info regarding 2013 BLE Mizuno Specialty Camps, Click HERE!
To read more about James Henderson, Click HERE!!